♥ © Copyright of My Women Stuff
Go here for full text and images: Your Say: Is beauty becoming too much of a luxury?
I am a big follower of news and current issues. My Twitter feed isn't for everyone (as some of you have found out LOL!), because it really is a personal account, and I often run off on a non-beauty related tangent. But what with Twitter feeding me news, and my own personal experiences, I cannot help feeling the economic pinch. I speak for myself here in Malaysia – I do not profess to know what's happening in other countries. This might not be true in a higher economic/income nation.
Basic things like prices of food have spiralled remarkably in recent years. Grocery shopping can be quite a challenge, and I know of people who struggle to make ends meet, much less have spare cash for savings or even luxuries. It is very sobering, in a country where resources are plentiful, but mismanaged. (Ok, no more politics)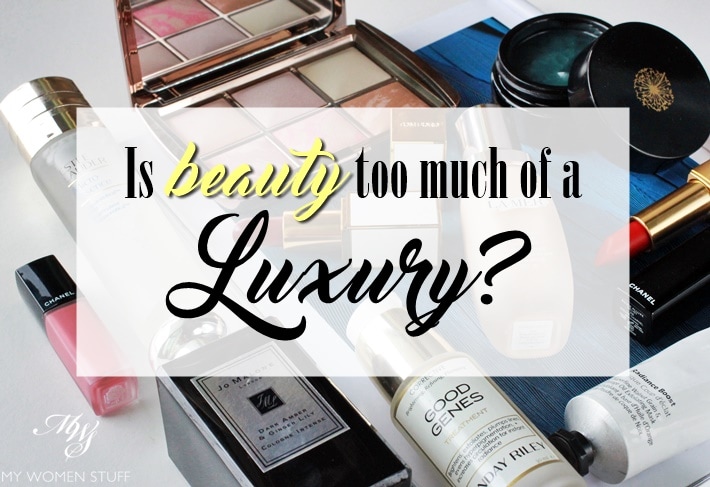 When I first started being interested in beauty – skincare and makeup – over 15 years ago, I was earning quite an average basic income. Glam sounding job, but no high-flying salary to match. Yet, back then was when I started my beauty collection and experience – Dior lipsticks, Chanel blushes, Guerlain Meteorites. I was using Estee Lauder, La Mer and SK-II as my skincare. Estee Lauder ANR was my crack! They were expensive, but they weren't prohibitively so. I wonder if it is also because the brands did not go crazy with new releases every 2 weeks. Things hung around a lot longer which made them more attainable after a spell; and for makeup, you had time to save up for the seasonal collections because there were maybe 4-5 a year.
These days, almost every brand launches a big collection one week, and 2 weeks later, launches a capsule collection. MAC Cosmetics went from having 1 new collection a MONTH to 1 new collection A WEEK. I understand the brand's drive to increase sales – but what about for the consumer?
The post Your Say: Is beauty becoming too much of a luxury? appeared first on My Women Stuff. If you're seeing this message on a site other than an RSS feed reader, the content is stolen.