♥ © Copyright of My Women Stuff
Go here for full text and images: Cushion Foundation Week Day 1: Iope Air Cushion XP – 1 sold every 6 seconds!
Welcome friends, to Cushion Foundation Week on My Women Stuff!
This has been the new wave of foundations to hit our counters, popularised by Korean brands and formulations, so I wanted to keep it all in one place. What I'll be doing over the next 4 days, starting today, will be to tell you what I think of the cushion foundation from a particular brand, and suspending all other regular programmes.
I will also tell you that the cushion foundations of the next few days will be from the Western brands, because that's what I have on hand and that's the interesting part for me. All these western brands jumping on the cushion foundation bandwagon! I do not have all, naturally, but I will feature some of the more prominent brands. At the end of the 5 days, I'll do a quick round up with some general thoughts, and also tell you what I think about cushion foundations in general so look out for it then.
But I wanted to kick off Cushion Foundation Week, with a Korean brand cushion which, as it happens, is my favourite. So, every other product will be measured next to this one – I can't help it.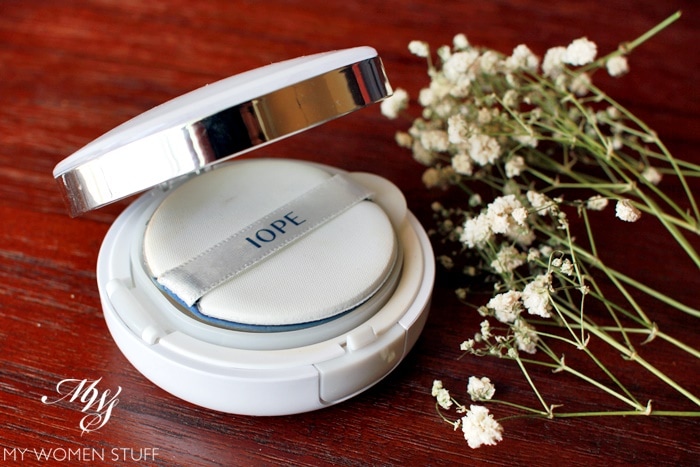 I was incited to pick up the Iope Air Cushion XP cushion foundation by my friend LeGeeque, who told me that she had experimented with it, and that she really liked it, and that I might too. Actually, I think she said that I would love it as much as she does hers! LOL! She knows me well
Iope (I'm reliably told is pronounced 'eye-oh-pay' and not 'ee-op' as I was calling it before) is a Korean brand of skincare that sits on the slightly more premium price level. I haven't tried anything else from the brand, but I am very keen to because I'm told that the products from the brand are well formulated. But I digress. Today, we want to focus on the cushion foundation and what I think of it.
The post Cushion Foundation Week Day 1: Iope Air Cushion XP – 1 sold every 6 seconds! appeared first on My Women Stuff. If you're seeing this message on a site other than an RSS feed reader, the content is stolen.